Autumn may be approaching, but at Spring-Green Lawn Care new ideas continue to bloom. Today, Spring-Green is pleased to announce a number of additions to the company's all-new website that will benefit visitors by providing a streamlined, smoother interface, a deeper wellspring of lawn care knowledge and an overall ability to tailor the website to a user's nearest Spring-Green location to provide customized offers.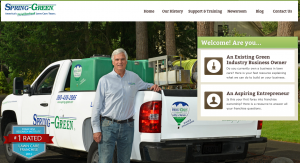 Users who visit Spring-Green.com will notice a breadth of new content to educate users on lawn care ranging from videos to detailed how-to guides. All visitors to the enhanced Spring-Green website will see an improved shopping cart feature while current customers enjoy a much simpler, easy-to-use interface for selecting and paying for lawn care services.
Spring-Green franchise owners will also benefit from the website update. The website now interacts with our mobile deployment and provides a seamless experience through national call center. Those interested in owning a Spring-Green franchise can now enjoy access to a detailed knowledgebase covering everything from Spring-Green as a company to specific information on how green industry companies can diversify their existing businesses by owning a Spring-Green franchise.
The website update emphasizes Spring-Green's continuous commitment to providing customers with the tools they need to achieve the best lawns possible. Today, Spring-Green services over 7,500 neighborhood communities around the country. Spring-Green provides veterans, entrepreneurs and green industry business owners with a proven business model and access to marketing programs, ongoing support and training programs, revenue and retirement planning, and best practice models.
Video: http://www.youtube.com/user/SpringGreenLawnCare
Twitter: https://twitter.com/springgreenlawn
Facebook: http://www.Facebook.com/SpringGreen
Website: http://www.spring-green.com
About Spring-Green Lawn Care
Founded in 1977, Plainfield, Illinois-based Spring-Green Lawn Care has been delivering lawn and tree care services nationwide for over 37 years. Its service is centered on the beautification of residential and commercial customers in middle-class and affluent neighborhoods and communities. Spring-Green is an attractive opportunity for entrepreneurs and existing green industry business owners who want to align themselves with a franchise opportunity that has proven economic resilience, healthy profit margins, industry leading business and marketing intelligence, recurring revenue and retirement & family planning through business ownership. Spring-Green currently has 127 franchises operating in 25 states. Spring-Green Lawn Care franchise owners gave the franchise opportunity a 96 percent overall quality rating, according to the Franchise Research Institute September 2013 survey. For more information, visit www.springgreenfranchise.com.