Enriching the Quality of Life in the Communities We Serve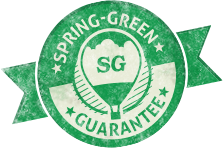 Spring Green is an organization made up of smart and passionate people. Our purpose outlines a noble cause, and our services are impactful to the families we serve, the environment and the franchise owners who operate as our strategic partners. Spring Green is an exceptional organization made up of special people doing great things.
We provide services that beautify our environment through higher standards of Quality, Service and Professionalism.
We believe our mission transcends lawn care or the self-interest of any one individual. Of the many benefits an organization can contribute to society, beautifying the environment ranks among the most worthwhile.
By taking our mission across the country through our network of franchise owners, everyone associated with Spring Green benefits:

Our customers benefit by receiving remarkable services.
Our associates benefit from rewarding and fulfilling careers.
Our franchise owners benefit from owning successful businesses they can be proud of.
Spring Green benefits from an expanding system of successful, strategic partners.
Core Values: Guiding our Behavior with Customers and Each Other
At Spring Green we don't believe in winning at all costs. We consider ourselves successful only when we win and at the same time live the values that are important to us. The following five statements define our core values, "the should and should not's" that govern our decisions.
Customer Focus
Put the voice of the customer at the center of all business decisions.
Pursue Common Goals
Align goals among team members, franchise owners and the support center to achieve a desired outcome.
Integrity
Be honest and fair in dealings: 1) with Spring Green and its associates, and 2) on behalf of the company with customers, vendors and franchise owners.
Innovation
Contribute to the introduction of new ideas, methods and processes for the purpose of improving Spring Green's model, system, customer experience and efficiency.
Perseverance
Be steadfast in doing something despite difficulty or delay in realizing success.
Family
Rooted in family values, we foster a positive team atmosphere through open communication with each other, care for each other, belief in each other, and trust of each other.