Spring-Green Lawn Care is honored to be recognized by Military Times for the company's commitment to America's veterans and their spouses. Spring-Green appears on Military Times' 2014-2015 Best for Vets: Franchises List, which was published in the September 2014 issue of Military Times EDGE magazine.
The list, which was formed after assessing the results of a 110-question survey given to franchises, considers each company's efforts in helping veterans achieving success with their business. Criteria include financial incentives offered to veterans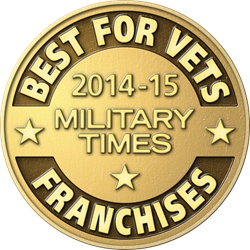 , brand performance, and policies which cater to those who have served.
The Spring-Green franchise organization—including support staff, franchise owners and their staff—employs over 50 veterans nationwide. Each year, Spring-Green participates in the annual Renewal and Remembrance ceremony at Arlington National Cemetery sponsored by the Professional Landcare Network (PLANET). This year two representatives from Spring-Green Lawn Care attended the event, Director of Education Harold Enger and Tom Warfel, a business consultant. "We are lucky to have many veterans who have contributed to Spring-Green's success throughout the years, both in corporate leadership positions—like Navy veteran and Spring-Green chairman Tom Hofer—and as franchise owner operators," said Tom Hofer, CEO.
A participant in the International Franchise Association's VetFran program, Spring-Green prides itself on giving back to those who have given so much for us. For Spring-Green, this honor is yet another affirmation of the company's continued support for America's veterans. In 2013, Spring-Green was named one of Victoria Media's Military Friendly Franchises.
"We are proud to support those who have sacrificed so much for us," added Hofer. "It is an honor to make the Veteran franchise opportunities list, and we hope to continue and grow our partnership with veterans in the future."
Spring-Green has always been a neighborhood-based lawn and tree care service company. Today their organization services over 7,500 neighborhood communities around the country. Spring-Green provides veterans, entrepreneurs and green industry business owners with a proven business model and access to marketing programs, ongoing support and training programs, revenue and retirement planning, and best practice models.