We are proud to announce our newest franchise owner, Jimy White of Outdoor Oasis in Knoxville, Tennessee.
When the economy eliminated his manufacturing job, White knew he had to find a new career. "I wanted to teach my son some responsibility, so we opened our own business, Outdoor Oasis, a landscaping company," he explained about his decision to enter into the green industry. White said he didn't seek lawn care for any specific reason. "We just started doing it and enjoyed it. We wanted to see if it could grow." Initially he partnered with another national lawn care franchise, but found himself thinking there had to be a better way.
"When I left Discovery Day, I couldn't help but think 'I could be three trucks deep at this point if I would have started right away.'"
Spring-Green reached out to White three years ago, but he wasn't ready to make the move. Over time, he decided it would be a good decision to attend Discovery Day and learn more about how operating a Spring-Green franchise could benefit his existing business. He was particularly pleased to learn about one service that Spring-Green offers. "When I was there for Discovery Day, I liked that they also did irrigation, which is a big deal for us. Probably half of the homes in our area are irrigated," he said. "We see it as a huge benefit because if you are only using fertilizer then you're not controlling the environment, so you need irrigation. If a house only gets treated with fertilizer and doesn't have the proper irrigation, then it is only half of the effort. We liked that Spring-Green could offer it all."
He quickly came to see that Spring-Green provided a lot of crossover potential for his current Outdoor Oasis customers who are interested in additional lawn care services. "When I left Discovery Day, I couldn't help but think 'I could be three trucks deep at this point if I would have started right away.'"
White's business is truly a family affair, with not only his son working for him, but his daughter handling the management of the office and billing. "She will be making sure we are staying on budget and have the customers to meet our goals," White said. He is excited to have the data support and marketing assistance of Spring-Green. "In a small business, when you want to grow, it's trial and error. When you want to build your company, it's great to have support such as peer groups and all the other marketing and technology Spring-Green provides."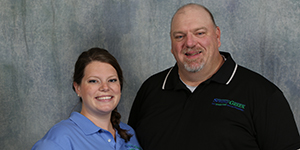 "At Spring-Green, we think of ourselves as a family, so welcoming a new franchise owner like Jimy who employs his son and daughter is in keeping with our core beliefs," explained James Young, president of Spring-Green. "We put great emphasis on the balance between work and home life that Spring-Green offers, and we're excited that the Whites have joined the Spring-Green family."
Spring-Green helps franchise owners at every stage of development of their green industry business. Call 1-800-777-8608 or visit us at www.growmygreenindustrybusiness.com to learn how Spring-Green Lawn Care can help you succeed.