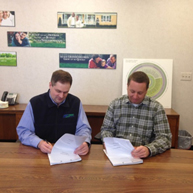 Becoming a Spring-Green lawn care franchise owner has many perks, but one of the most popular includes a well-planned exit strategy for retirement or resale. This is what attracted franchise owner Ken Brown to develop a partnership with Spring-Green.
Ken Brown joined Spring-Green Lawn Care as a franchise owner in 2005 with an end in mind. His vision for choosing a franchise was clear: he wanted a proven business model with recurring revenue. He also wanted a business that he could grow large enough to satisfy his vision of passing along a portion of it to his son, while also meeting his retirement needs.
"I am excited about the opportunity to begin building my own retirement plan."
– Ryan Brown, Owner
Succession Planning with a Lawn Care Franchise
Following a technology career at IBM, Ken chose to purchase an existing Spring-Green lawn care franchise which had three territories servicing the Rochester and Twin Cities areas in Minnesota (Cottage Grove and Bloomington). Ken's son, Ryan Brown, operated the Twin Cities, MN branch, allowing for some supervised independence, according to Ken. "Ryan had day-to-day responsibility for operations and customer service, while the Rochester branch provided all of the back-end support. This business structure allowed Ryan to have his independence while I was able to provide the necessary leadership training and preparation for Ryan to own his own franchise," says Ken.
In 2015, the father-son team split their lawn care franchise territories, with Ryan signing franchise agreements for the Twin Cities. Immediately thereafter, Ryan expanded his service area to include a neighboring franchise servicing the Metro area in Anoka, MN. "Ryan has earned his independence and this opportunity, and I am confident that he will be successful," mentioned Ken. Ken will continue to operate the Rochester lawn care franchise with a clear path to meeting his retirement goals.
Retirement Goals for Father and Son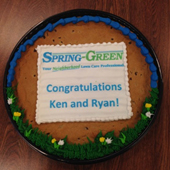 "The succession planning was already in place, however, the opportunity to acquire a new territory prompted the decision to separate the entities," says Ryan, "I am excited about the opportunity to begin building my own retirement plan. While it is a long way away, the Spring-Green business model affords that opportunity. Most importantly," continues Ryan, "my dad and I are both very thankful for the response by the community to our services, as we know there are choices when it comes to selecting you lawn care provider. Our greatest success is when our current customers refer their friends and family. That is when we know we have built something very special."
Meeting your retirement and succession planning goals are just two of the advantages of owning a lawn care franchise. Learn about some of the other benefits today!