Spring-Green Lawn Care Corp. just completed celebrating their 40th Anniversary in business with our National Training Conference, Optimize for Success, on August 2nd through the 4th in Oak Brook, IL. Spring-Green Franchise Owners from across the US gathered to network with fellow Franchise Owners, listen to inspiring presentations from Marty Grunder, well known landscape owner and Green Industry speaker and Jay Baer, a respected consultant on building customer relations. It was an incredible 2 and a half days of learning, laughing and reflection on business building.
National Training Conference Silent Auction Recipient
It has been a tradition at recent National Training Conferences to conduct a vendor sponsored Silent Auction benefiting a worthy cause. Since starting this program in 2011, the Silent Auctions have raised a total of $60,000 for the sponsored organizations. Spring-Green supported the AFLAC Cancer Center of Children's Healthcare of Atlanta in Atlanta, GA as the child of one of our Franchise Owners was receiving treatment for leukemia at that facility.
The other organization Spring-Green supported was The Fisher House, which provides housing near military hospitals for the families of current and veteran military personnel who are receiving medical care. Fisher House helps relieve the financial burdens of lodging and travel for these families during stressful times. Helping military families stay with their loved ones while they receive medical treatment often results in a quicker recovery time so we are proud to help these heroes after protecting our freedom.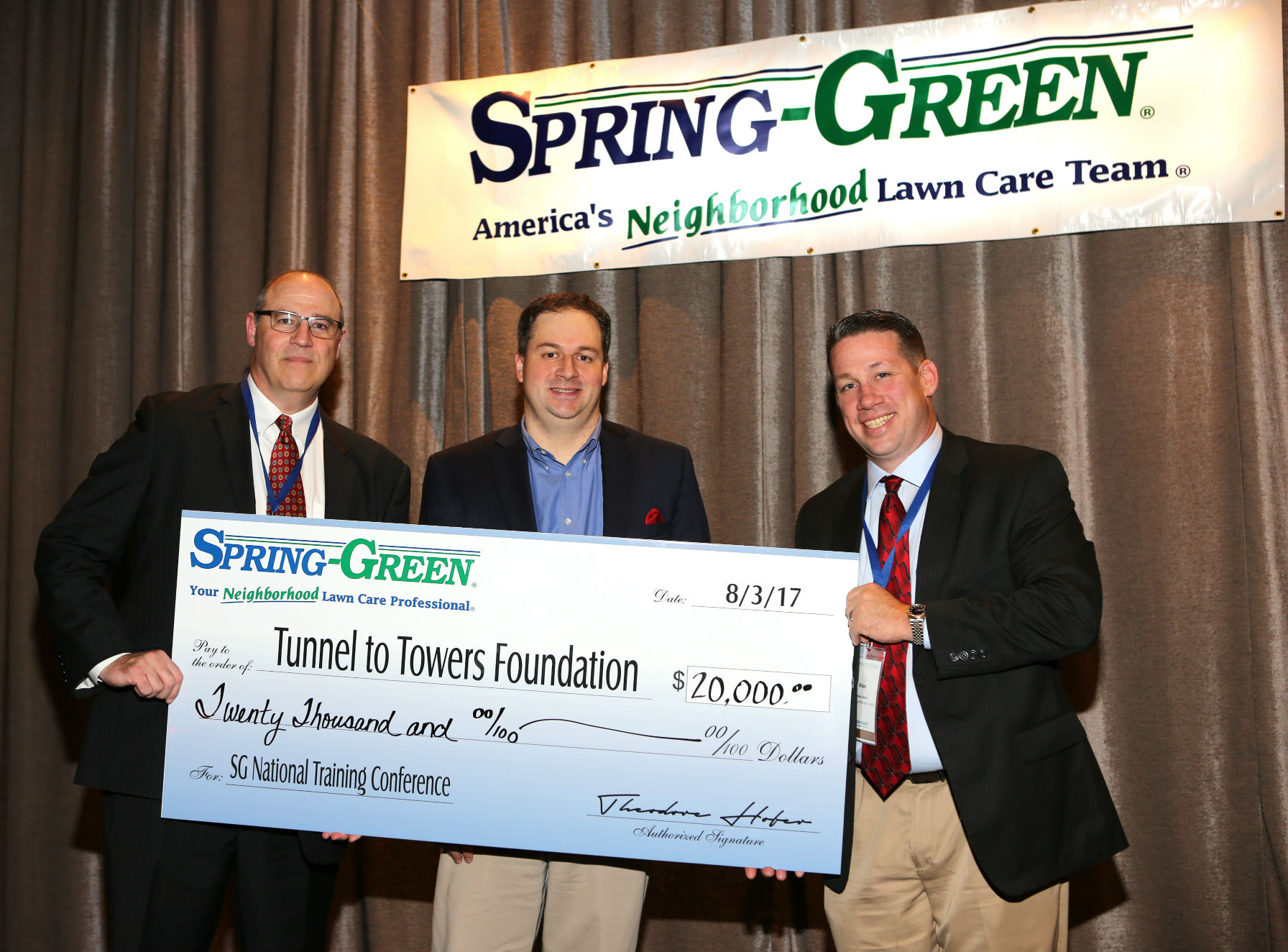 This year, Spring-Green raised funds for Building for America's Bravest. This organization builds smart homes for our most catastrophically injured service members returning home. Each home is custom designed to address the unique needs of each individual. Energy efficient, automated and easily accessible—these homes use "adaptive technology" to help our most severely injured heroes live better, more independent lives. It is with great honor to announce that Spring-Green once again raised $20,000 to help support this great program.
Spring-Green Helping One of Their Own
After a daylong meeting on Thursday, word was passed along that the child of another Spring-Green Franchise Owner's was back in a battle with cancer. Alex and Anne Abbott's, Franchise Owners of Richmond Area, Virginia, son, Cooper has been fighting cancer since he was 2 years old. Here in her own words is Anne's explanation of Cooper's fight:
"His first battle with cancer was in 2011 when he was only 2. He was in remission until he was almost 6. He had just started kindergarten when he developed a brain tumor. He breezed through chemo and radiation both times and was in remission until last October, one week after his 8th birthday, when he was diagnosed with treatment induced leukemia. This diagnosis has been so tough. He spent 35 days on a ventilator recovering from heart failure and kidney injury. He fought his way back from all of that and went on to complete 2 rounds of super intense chemo and in April was within a breath of our ultimate goal, bone marrow transplant, when it was discovered he had relapsed.
We have continued our fight with chemo but the setbacks endure. More recently, a spinal tap caused excessive bleeding and resulted in neurological deficit and persistent fevers revealed a fungal infection in his lungs. He's fighting all this and his leukemia persists. We're not giving up…ever. We're still challenging his disease with chemo and hoping to get him to transplant soon. Alex is completely dedicated to Cooper spending (sleepless) nights in the hospital with Cooper and spraying lawns all day in our 100-degree heat. I have no idea how he does it."
In one evening, Spring-Green Franchise Owners and other attendees of the conference joined together to raise $8,500 to help offset the cost of Cooper's medical bills. Cooper has a Go Fund Me page where others can help donate to help this brave little boy by helping to find a "Cure For Cooper" https://www.gofundme.com/cureforcooper.
Spring-Green Lawn Care is more than just a lawn care company or a franchise organization, it is a community of business owners willing to help not only worthwhile organizations but also caring for one of their own.
Spring-Green helps franchise owners at every stage of development of their green industry business. Call 1-800-777-8608 or visit us at www.growmygreenindustrybusiness.com to learn how Spring-Green Lawn Care can help you succeed.