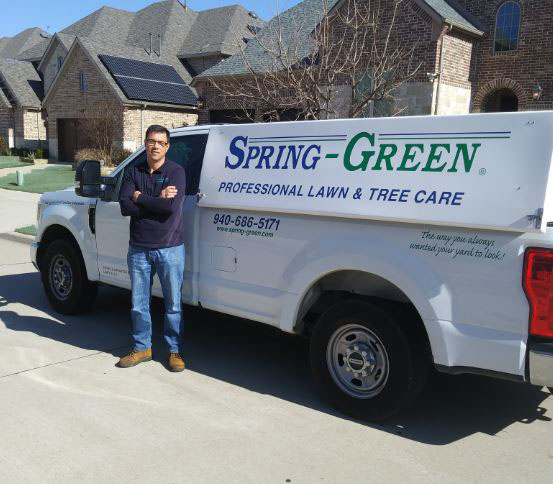 Brian Lindorm is no stranger to the Lawn Care Industry. With 15 years of experience under his belt, Brian realized it was time to diversify. "I loved how professional Spring-Green would make my business look. It was an existing business with a support team to help my current business grow."
Brian knew long ago that sitting at a desk all day was not for him. His passions lie in supplying excellent customer service and a changing work-life atmosphere. With the support of his two children, Sheena and Ashley, and his wife, Sandra, Brain left a position in the retail management sector to pursue his happiness in the Lawn Care Industry. With many years of success, Brian and his family felt it was time for something more.
Most know that when working in the Lawn Care Industry, things can be stressful when you're doing it alone. That is why, when Brian started looking into diversifying his services, he knew it needed to be right. "It's hard when everything hits at once, specifically in the Spring. That's why I am excited about the Call Center and my Business Consultant. Having someone to help make those decisions and show me the things, I just don't see. That is going to help me, beyond my abilities, to ensure I don't stretch myself."
Due to the real-world circumstances, business has been increasing for Brian. "Since the COVID-19 pandemic, more and more people are at home wanting to make improvements to their lawns. The business began to pick up." Expanding his services by diversifying with Spring-Green could not have come at a better time.
A new chapter in Brian's life is starting. "I am excited and nervous to start. I am looking forward to getting everything set up for the Spring and managing both businesses." Brian states, "With Spring-Green, I can take on a whole new lot of customers with the services we offer. I am ready."
This new journey for Brian and his family will give him, "the ability to grow past my own limitations." Spring-Green is excited to have Brian on board. We are looking forward to helping him grow his business as he pursues his career passions.
Are you interested in Spring-Green?
Spring-Green supports its Franchise Owners as they begin and every step of the way. By becoming a Spring-Green Franchise Owner, you gain access to a network of systems, processes, marketing modalities, and support that can help you bypass the learning curve on your way to success. Of course, the many benefits of peer groups can also help your business shred goals, but as a Spring-Green owner, you'll already have a leg up.