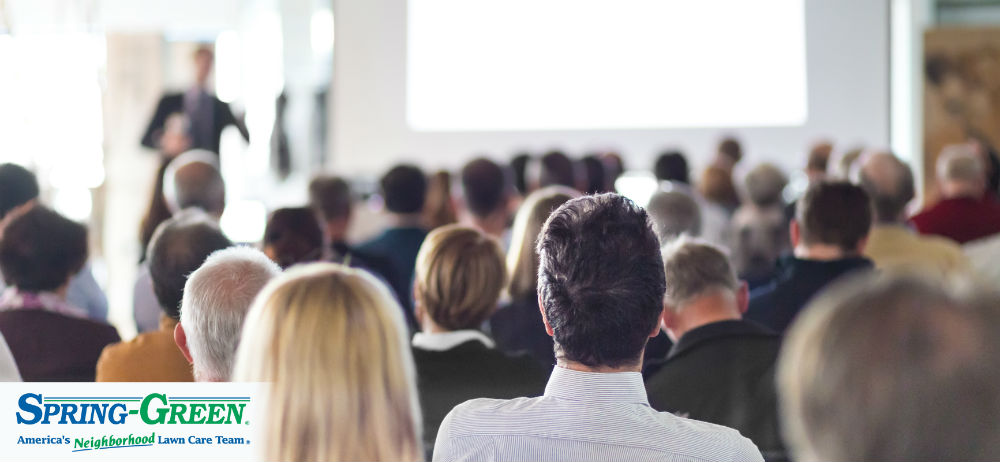 There are so many different ways you can market your business, so when a trade show is announced in your area, you're probably wondering: Is it really worth the time and money it takes to participate? Pre-registering for a booth is usually free, but not always, and if the trade show is in a different city you may have travel and hotel costs.
Then there's the time lost either to training staff members on how to run the booth or to manning the booth yourself. Despite the costs, however, attending a trade show is an investment that will pay off in the long run. Here are a few of the biggest reasons you should say "yes" to participating in the next green industry trade show that comes your way.
Benefits of Businesses Participating in Trade Show & Local Events
Find new customers
Many businesses attend trade shows with the purpose of finding leads, and they don't usually leave disappointed. The people that attend trade shows are likely already interested in the services you provide and often motivated to make a purchasing decision in the near future. Some might even be ready to commit on the spot if they are impressed with your services and prices. Make sure you strike up a conversation with anyone who visits your booth, as you never know who might become a customer. The people who give you their information at a trade show are highly-qualified leads that could keep your sales team busy prospecting and closing deals for quite some time.
Network with fellow industry professionals
Trade shows are a great place to meet other industry professionals in your metropolitan area. Especially for small but growing businesses, networking can help expand your reach and audience. Business owners in complimentary fields are likely willing to help promote your business as long as you promote theirs. So if you provide lawn care services, for example, consider introducing yourself to the people running the pest control, pet waste removal, and landscaping booths. You might have customers looking for the services they provide, and vice versa.
Stay up to date on the competition and industry trends
You certainly won't be the only business in your service area at the trade show. This is the perfect opportunity to see what your competition is doing. What are their prices? Are they offering any special deals? Did they add a new service to their line-up? You can use information you gain at the trade show to analyze how your business compares to your biggest competitors. Further, you might gain ideas from them, such as a new add-on service you could offer or a marketing tactic you would like to deploy. Take advantage of what the people attending the show are interested in. What booths see the most traffic? You should pay attention to any booths that have larger-than-average crowds, as this could imply they are showing off a new or popular service that you might want to emulate. Trade shows are a great place to discover up-and-coming industry trends.
Strengthen your brand
By being at the trade show, you're showing potential customers (and competitors) that your business shouldn't be overlooked. A small business can benefit greatly from the improved visibility and credibility a trade show gives. Consumers who visit your business at a trade show know that you are reliable and serious about your business, and they tend to trust people they meet face-to-face more than someone they've found simply by online. At the booth, display eye-catching banners that encourage passersby to stop and chat. Don't forget to include your brand, or business name, on any banners or other display materials. The goal is to keep your brand in people's minds.
Learn something new
Many trade shows offer educational talks for exhibitors, typically headed by industry leaders who can share useful and meaningful advice and expertise. Some local events provide demonstrations that teach a particular skill, such as an improved field technique or a new marketing tactic. Check the schedule beforehand and plan on attending at least one or two sessions that best fit you and your business needs. (Just don't forget to leave an employee at the booth in your absence!)
Trade shows offer qualified leads and a chance to boost your brand's reputation via networking and show presence, but even beyond that they allow you to grow professionally by learning something new and staying on top of industry trends. These are just a few of the biggest reasons you should attend your area's green industry trade show. So what are you waiting for? Search for your nearest trade show and hit that "pre-register" button. You won't regret it!
Interested in a company that can help keep you up to date and competitive in the green industry? Spring-Green can help you grow and diversify with our 40 years of experience and our proven expertise in marketing and technology. Learn more about how Spring-Green can expand your lawn care services. Call 1-800-777-8608 or visit us at www.growmygreenindustrybusiness.com.