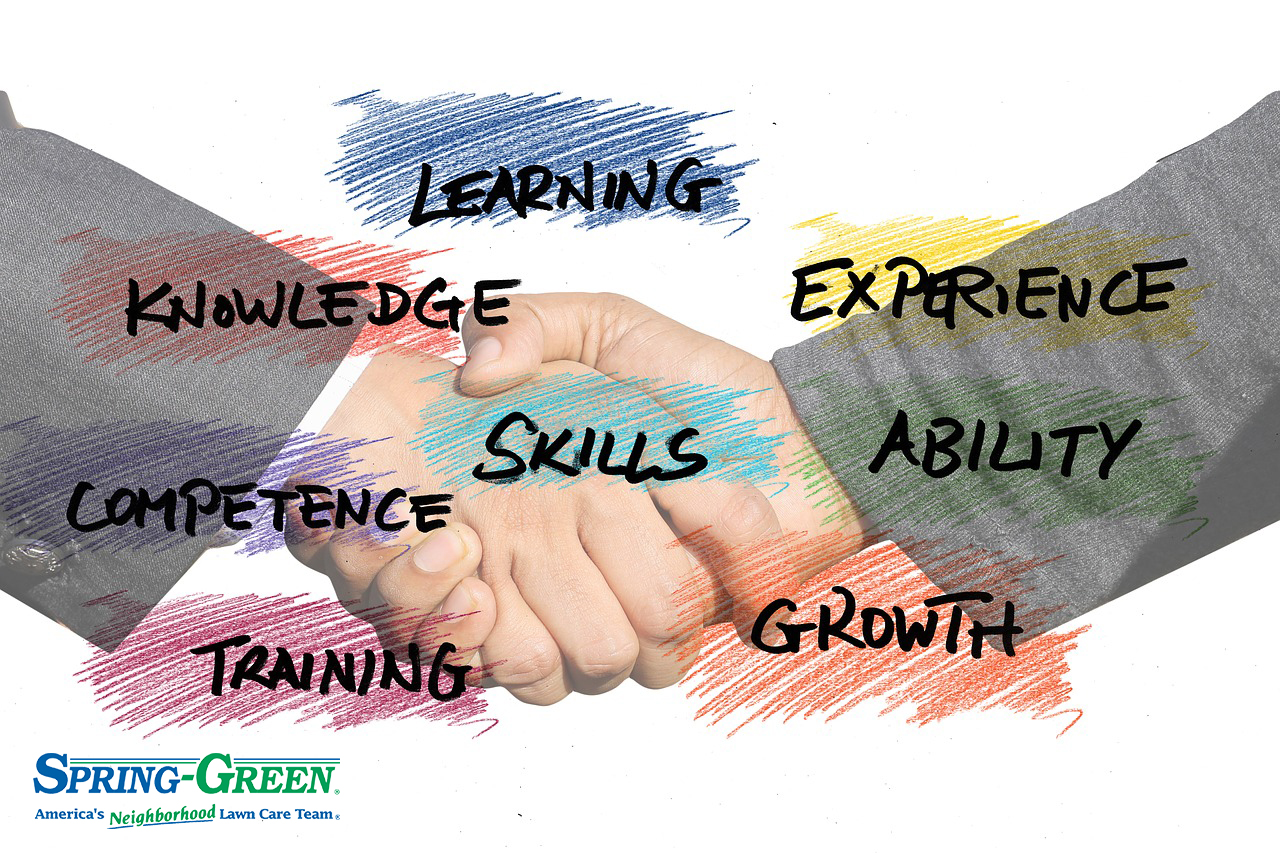 Whether your business fails or thrives greatly depends on the strength of the people who work for you. If you're a Spring-Green franchise owner, you know you're getting best-in-the-industry consultation and business planning. But what good is a solid business plan without great employees to make it happen? To that end, here are 5 tips for attracting—and hiring—the talent you want for your green industry business.
Attract and Hire For Your Green Industry Business
Tip 1: Branding Is Important
Prospective employees are always looking for a business with a strong brand. They want to work for a company that stands out from all the rest, one that they recognize and can trust. Make sure your company's brand is prominent in the communities you're hiring from. Place signage on your trucks and use the same company logo for all advertisements. You want potential applicants to think of your business over the other green industry businesses in the area. That's one reason owning a Spring-Green franchise makes sense—it's a national, recognizable, and trustworthy brand.
Tip 2: Put Your Best Face Forward
People want to work for winning companies. Similar to a strong brand, a solid website and social media presence is crucial when recruiting top talent. When someone is looking for a job, and they come across your company, the first thing they're going to do is research your business online. Your website is likely going to be the first interaction a prospective employee has with your business, and it should leave a strong impression. Make sure your website explains what services your business provides, summarizes its core values, describes its culture, and lists what career openings are available—all things potential employees look for. A digital presence is more important now than ever before. "Digital marketing is the wave of where things are going," says Dan Hillenbrand, Spring-Green Franchise Owner in Edmond, OK. "It can either make you or break you."
Tip 3: Referrals From Your Current Employees
If a job applicant is considering multiple companies, a deciding factor might be what it's like to work for each company. The truest testament to an enjoyable work environment is an employee who would recruit others to work there too. Post quotes from employees about what it's like to work for your company on the website. Take employees with you to job fairs. Finally, consider offering referral bonuses for your existing employees, to incentivize them to help you search for new applicants. Most referral bonuses get paid out once the referred employee has been with the company for 90 days.
Tip 4: Recruit All Year Round
You never want to be in a predicament where customers are being scheduled, but you're still looking for another employee to help fulfill those appointments. Don't wait until the busy season is upon you—recruit all year long. For field laborers, consider placing flyers in local gyms and rec centers, and make sure your trucks have signage so you can always promote your brand. For foremen and service techs, participate in vocational programs and interact with trade associations. Don't forget about your supplier and vendors also. Build relationships with these places, and they may be able to recommend folks to you when the time is right. Spring-Green's business consultants and marketing specialists will be there to help you day in, day out, giving you time to focus on interpersonal interactions. "It was a good fit culturally, and Spring-Green's support structure puts me in a position for success while allowing me to focus on local relationships and services," says Hillenbrand. "I am very proud of what we do for the community and environment."
Tip 5: Treat Candidates and Potential Hires Right
When candidates come in for interviews, treat them the same way you would treat a customer. Be polite and make sure the process goes smoothly. You want to ask hard questions, of course, but don't be rude or condescending even if you know a candidate is not for you. Word of mouth can spread fast, and you want to be seen in a positive light. Don't make your candidates wait too long before letting them know one way or the other, and when you're offering a position to a candidate give them time to transition jobs if needed. It may seem rudimentary, but kind gestures and a comfortable interview process can go a long way towards establishing your business as a place where people want to work.
How Spring-Green Can Help
Interested in a company that can help keep you up to date and competitive in the green industry? Spring-Green can help you grow and diversify with our 40 years of experience and our proven expertise in marketing and technology. Learn more about how Spring-Green can expand your lawn care services. Call 1-800-777-8608 or visit us at www.growmygreenindustrybusiness.com.