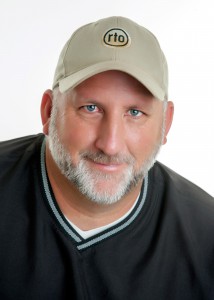 Steve Downin has been in the lawn care industry since graduating college in the early 1980s. Needing a way to grow his business and ensure continued success, Downin, owner of Right-of-Way-Turf-Ornamental, Inc., looked to Spring-Green Lawn Care for an opportunity to ensure stability in what can be a tumultuous industry. Now, the industry veteran is combining his wealth of experience with Spring-Green's own reputation as the nationwide leader in lawn and tree care services by opening a new Spring-Green Lawn Care franchise in the Columbus, Indiana area.
Downin began his career in lawn care working for his father's lawn maintenance company after college. In the early 1990s, the business started to thrive as he took on clients such as Columbus Regional Hospital; a relationship that still exists to this day. Downin and his father continued to grow the business, performing residential and commercial spraying services and building the market in Columbus, Bloomington, and amassing clients such as Indiana University. Yet Downin's heart was in the landscaping component of lawn care, so they sold the spraying business and, upon his father's retirement, founded Right-of-Way-Turf-Ornamental, Inc.
Business boomed, but it was not without its share of setbacks. In June 2008, Downin's nursery was destroyed by a flood. "While the building was underwater, my crew and I were using our trucks and trailers to help Columbus Regional Hospital evacuate patients," says Downin. "Unfortunately, my nursery and office were total losses, and my largest customer was quite literally under water."
While business eventually bounced back, Downin never forgot the risks inherent to owning a business when going it alone. When approached by Spring-Green, Downin was inspired by the possibility of returning to his roots, using the support system the lawn care company would provide. "Having back-end support and established systems allows me to be efficient in building the business by letting me focus on the task at hand rather than juggling all of those balls at once," adds Downin. "Since I have a business with large commercial customers, there was an appeal to having a diversified residential customer base to provide fertilization and weed control, creating stability."
Reputation, quality and satisfaction of franchise owners all were crucial factors which swayed my decision to join Spring-Green.
Downin says Spring-Green also holds a great deal of cachet for the character the company is known. "Reputation, quality and satisfaction of franchise owners all were crucial factors which swayed my decision to join Spring-Green," notes Downin. "I researched Spring-Green heavily and relied on my business partner, Jeff Rocker, who has been a business attorney for nearly 20 years. He vetted the company and found that they had a sterling reputation among their franchise owners as well as with the Small Business Administration."
Downin is just one of many independent green industry businesses that have joined Spring-Green for its support, knowledge-base, and industry-leading marketing and technology. The Spring-Green franchise is tailor-made for green industry businesses who are interested in diversification, better buying power, exit strategy assistance and higher profit margins.
###
About Spring-Green Lawn Care
Founded in 1977, Plainfield, Illinois-based Spring-Green Lawn Care has been delivering lawn and tree care services nationwide for over 37 years. Its service is centered on the beautification of residential and commercial customers in middle-class and affluent neighborhoods and communities. Spring-Green is an attractive opportunity for entrepreneurs and existing green industry business owners who want to align themselves with a franchise opportunity that has proven economic resilience, healthy profit margins, industry leading business and marketing intelligence, recurring revenue, and retirement & family planning through business ownership. Spring-Green currently has 132 franchise territories operating in 26 states. Spring-Green Lawn Care franchise owners gave the franchise opportunity a 96 percent overall quality rating, according to the Franchise Research Institute September 2013 survey. For more information, visit http://www.springgreenfranchise.com.