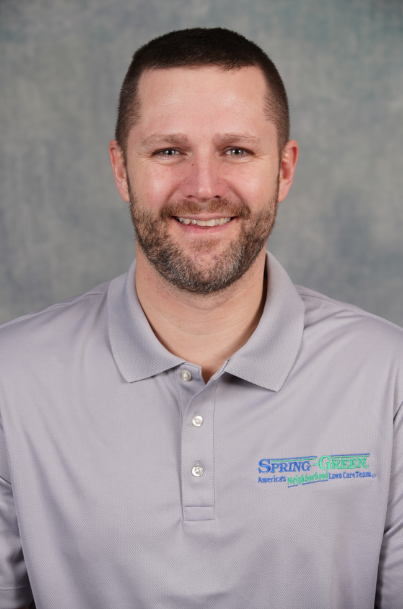 (Plainfield, IL.) — Spring-Green Lawn Care is proud to announce its newest franchise owner, Bruce Mohns Jr. of Eau Claire, Wisconsin and the surrounding area.
A Family Business
Bruce is a fully-licensed architect and has a background in sales. He isn't the first Mohns to join the Spring-Green team – his father, Bruce Mohns Senior, owns and operates our Wisconsin Rapids location. That's where Bruce got his first taste of the lawn care business, spending a summer working as a Field Service Technician. When his father spoke about expanding and opening another location, Bruce thought it would be the perfect opportunity to take on the role of business owner himself.
Branching Out
Looking for a chance to step away from some of the burn out he was having in the architecture industry, Bruce thought the idea of working outdoors in lawn care was a great option. Knowing his father's success in the business for over 13 years gave Bruce a lot of confidence in the Spring-Green franchise system. "Why we chose Spring-Green is because the advantages of their systems in place [and] their success rates. They take data and look at that, and basically they put you in a position where they're setting you up to succeed," said Bruce.
System of Support
When first stepping into the opportunity, Bruce was most excited by the Support Center, the chance to work directly with customers, and being in control of his business first-hand. "The advantage to Spring-Green is that they give you the structure and the rules of the game. As long as you play in the rules of the game, you control your own destiny," he added. Plus, he'll get some pointers from his dad.
"We are excited about having Bruce and the Eau Claire market and look forward to helping him achieve his goals and dreams," said James Young, president of Spring-Green Lawn Care.
About Spring-Green Lawn Care
Plainfield, Illinois-based Spring-Green Lawn Care has been delivering lawn and tree care services nationwide since 1977. Its service is centered on the beautification of residential and commercial customers in middle-class and affluent neighborhoods and communities. Spring-Green is an attractive opportunity for entrepreneurs and existing green industry business owners who want to align themselves with a franchise opportunity that has proven economic resilience, healthy profit margins, industry leading business and marketing intelligence, recurring revenue, and retirement and family planning through business ownership. For more information, visit http://www.springgreenfranchise.com