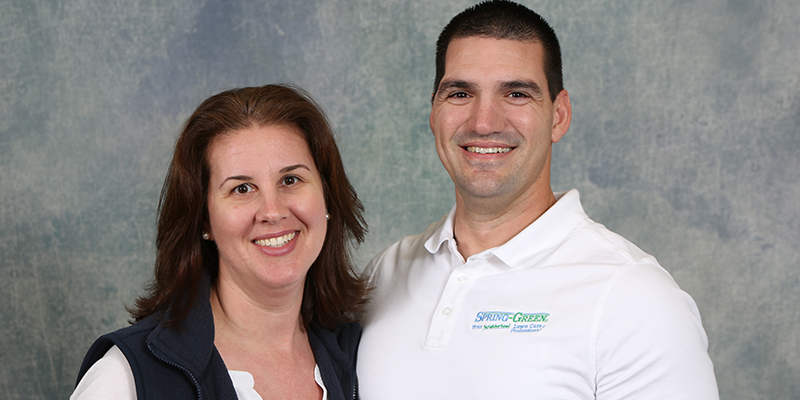 Spring-Green Lawn Care is proud to announce its newest franchise owners, Nick and Ursula Novellino of Novellino Turf Management in South Hampton Roads, Virginia.
The Novellinos have more than 12 years of experience in the green industry. Their company, CNE Grounds Maintenance, Inc., provides mowing, pruning, fertilizing/weed control and snow/ice removal for a range of properties, from single family townhomes to commercial properties to apartment complexes. The couple began CNE as something for Nick to do on his days off from the local fire department. Around 2011, they were looking for ways to grow their business, and they discovered Spring-Green. Unfortunately, Nick was involved in a serious motorcycle accident, which derailed their plans to diversify until the summer of 2015.
"We liked what we learned about Spring-Green when we were looking into a way to diversify our main business," Nick explained. The couple appreciated the support system Spring-Green had in place for when they had questions about issues such as improving lawn health or correcting disease and insect problems. And while their existing business with CNE was doing well financially, they valued that Spring-Green offered even more economic stability. "With Spring-Green we should be able to do the same amount of work, with half the number of employees," Nick said, citing the challenge to find qualified employees able to do the quality work the Novellinos expect.
Finally they never felt pressured by Spring-Green. "They've never tried to convince us, 'This is what you have to do.' They've always just said, 'This is what we have to offer, come and join us if you want,'" recalled Nick.
"At Spring-Green, we look carefully at both cultural and business fit when selecting new franchise owners like the Novellinos," explained James Young, president of Spring-Green. "Our best franchise owners share our values and see the benefits of joining our organization."
The Novellinos respected Spring-Green's straightforward approach and commitment to over-delivering on their promises, both to franchise owners and customers, as well as the family feel they offered. "That's a big thing for us," said Ursula. "If we tell you we're going to do something, we're going to do it, and they operate the same way."
Once the Novellinos knew that they shared a business philosophy with Spring-Green, all that remained was the issue of financing. Spring-Green's financing options eliminated any concerns the couple had, and Spring-Green's assistance was never more than a phone call or email away during the process, Nick recalled. "Without their capability of financing us, we likely wouldn't be franchise owners—it's just another benefit of Spring-Green," Ursula added.