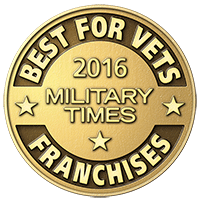 Spring-Green is honored to have been recognized by Military Times in its "Best for Vets: Franchises" rankings for 2015-2016. This distinction recognizes Spring-Green for our commitment to providing franchise opportunities to America's veterans.
The list, published in the September 2015 edition of Military Times, was compiled from the results of a 110-question survey. The assessment of the survey considers each company's efforts to help veterans achieve success with their franchised business, including any financial incentives offered to veterans, brand performance and policies that cater to those who have served.
"We are proud to support those who have sacrificed so much for us," said James Young, president. "It is an honor to make the Military Times' 'Best for Vets: Franchises' again, and we are very proud of the contributions our veteran franchise owners are having on their local communities."
Franchise-Wide Support and Opportunities for Veterans
The Spring-Green franchise family—support staff, franchise owners and their staff—is made up of dozens of veterans across the United States. In addition to these employment and franchise opportunities for veterans, for almost 20 years Spring-Green staff, franchise owners and their families have donated their time, equipment and products to participate in Renewal & Remembrance, a day set aside to beautify and care for Arlington National Cemetery. Done in conjunction with members of the National Association of Landscape Professionals (formerly PLANET), the national trade association for landscape and lawn care industry professionals, Renewal & Remembrance is the largest single day of service for the nation's landscape and lawn care industry.
Spring-Green also supports the Fisher House Foundation, which builds on-site housing at military hospitals to provide lodging for the families of current military members or veterans who are hospitalized. During Spring-Green's 2015 annual National Training Conference, $40,000 was raised for Fisher House Foundation through a silent auction.
Our Lawn Care Franchise Veteran-Owners
Spring-Green is proud of our many green industry franchise owners who are also veterans, including Jeff Anderson (Waukomis, Oklahoma), Mike Bell (Olympia, Washington), Lenny Geibel (Lawrenceville, GA), Roger Grose (Reno, Ohio), Jim Hoelsworth (Vineland, NJ), Kevin Holker (St. Cloud, Minnesota), Pat Mathoney (Greenwood, IN), Bruce Mohns (Wisconsin Rapids, Wisconsin), Amy Shelton (Decatur, IL), Tim Silberer (Galesburg, Illinois), Travis Snead (Shallotte and Wilmington, North Carolina), and Bob Summers (Cary, NC).
Who Is Spring-Green Lawn Care?
Since 1977, Spring-Green Lawn Care has been the choice of entrepreneurs, green industry business owners and professionals seeking to build equity and control their destiny. Named 10 years in a row to the Top 100 Lawn & Landscape Companies, our conservative approach to franchising puts emphasis on keeping the initial investment at a minimum, focusing on growth in customers and optimizing return from the ongoing marketing investment.
Spring-Green serves over 7,500 neighborhood communities around the country, providing veterans, as well as entrepreneurs and green industry business owners, with a proven business model for success. From the access to marketing programs to the ongoing support and training programs, from the revenue and retirement planning to the best practice models, Spring-Green prides itself on giving back to those who have served our nation so selflessly.
If you're a veteran thinking about franchise opportunities and are seeking a dedicated partner to support your business and help you grow, contact us for more information about our lawn care franchises.