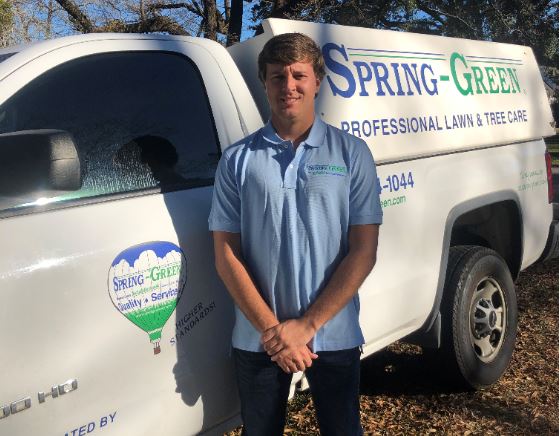 For outdoor enthusiast, Skyler Hribar, diversifying with Spring-Green was an easy choice. "As a child, I never saw myself at a 9-5 job sitting at a desk all day. I always loved being outdoors, that was one of my goals."
Skyler currently runs one other business outside of his new Spring-Green Franchise. Wrightway Outfitters is a guided waterfowl hunting expedition based in Saskatchewan, Canada. However, when Skyler isn't accompanying the public through the outskirts of Canada, he is freelancing as the First Mate guiding private fishing charters.
The Entrepreneurial spirit was a big part of Skyler's upbringing. His father owns several restaurants and bars in the South Carolina area. Skyler grew up in a family who had the 'do-it-yourself' mentality allowing him to go into business for himself at the early age of 18.
When asked what he was most excited about within the Spring-Green Franchise system, Skyler responded, "It's going to be great having a team of people behind me to ask questions when I have them, bounce ideas off of a team who has been there, and have someone to work with on the business planning side."
At Spring-Green, we are excited to help Skyler grow a business that grows with him. We know Skyler is well on his way to achieving the goals he set out for himself at such a young age: Financial Freedom and Career Flexibility.
About Spring-Green Lawn Care
Plainfield, Illinois-based Spring-Green Lawn Care has been delivering lawn and tree care services nationwide since 1977. Its service is centered on the beautification of residential and commercial customers in middle-class and affluent neighborhoods and communities. Spring-Green is an attractive opportunity for entrepreneurs and existing green industry business owners who want to align themselves with a franchise opportunity that has proven economic resilience, healthy profit margins, industry-leading business and marketing intelligence, recurring revenue, and retirement and family planning through business ownership. For more information, visit http://www.springgreenfranchise.com