For many, owning and running a business with their family is a dream. For Rodney Gaddis and his wife, Heather, that dream has been their reality for more than 25 years. Gaddis started in the lawn care industry when he was 17, eventually starting his own mowing and maintenance business in 1984. Heather joined him in his business, Gadco, based in Franklin, Tennessee, when they married in 1989.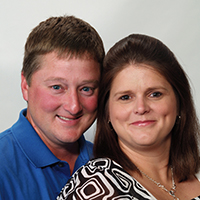 Problem:
The Gaddises were interested in assistance with staying current with laws and regulations around the green industry. Additionally they had discovered how challenging it was as an owner/operator to keep up with the newest social media and technology, and they were interested in assistance.
Idea:
The Gaddis's business, Gadco, was going so well with its commercial mowing, hardscaping and maintenance that they were sub-contracting lawn care to another company. They didn't like that they weren't able to retain all of their potential profit. They also were interested in expanding into residential lawn care.
Solution:
Rodney purchased a Spring-Green Lawn Care franchise in Franklin. "I began with Spring-Green Lawn Care in 2005 to expand my business by adding the option of doing lawn and tree care," he said. The Gaddis's also felt the addition of the franchise would maximize their recurring revenue, while still giving them control over their business.
The couple admits they were looking for greater profitability, a diversification of offerings and assistance with marketing and technology. All of which Spring-Green offered. Rodney explained, "Obviously we wanted to make more money for our family, but adding these services in addition to our maintenance company has increased both sides of our business." He added that the industry-leading marketing and technology provided by Spring-Green's support staff has been a big help as well. "They break it down for us into terms and costs we understand. Not everyone wants to pay royalty fees, but the amount of 'behind the scenes' work that is done for us is incredible. They help with the budgeting, marketing and so many other aspects."
Rodney also appreciates the assistance he gets from fellow owners across the country. "The peer groups, FranConnect, the national conferences and the support staff all give us a chance to discuss problems and get actual solutions that have worked for others," he shared.
Of course the family-friendly focus Spring-Green offered was an added bonus for Rodney and Heather. "We do like the family-focused concept of the business, because that was how I have run my maintenance business since we began," he said.
Success:
The partnership with Spring-Green has definitely been a success for the Gaddis family. The couple purchased a second franchise in Murfreesboro, Tennessee, last year. The expansion allows them to capitalize on the rapid residential growth in their area. "We have gained about 20 percent more clients than we projected for this new territory. We are hoping to continue marketing to this area to see even more growth," he said.
The Future:
The Gaddis's son, Aaron, graduated in 2015 with a degree in plant soil science and has joined the family business, working in the new Murfreesboro territory. Eventually Rodney believes Aaron will have the experience and knowledge to take over and manage the new territory. The possibility of passing on the business had occurred to Rodney and Heather when they first purchased the Franklin location. "We knew that it would be an option if either of our children chose to go that route," Rodney said.
Interested in starting your own family-friendly business? Call 1-800-777-8608 or visit us at www.growmygreenindustrybusiness.com to learn how you can bring more balance to your work and life by adding a franchise to your existing business.