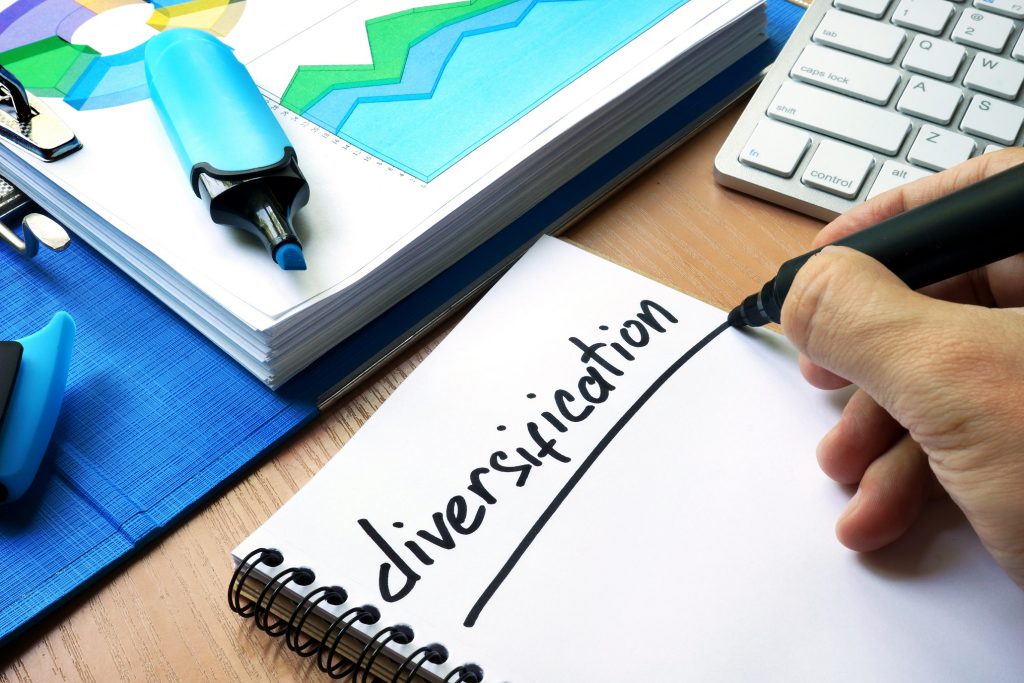 Diversification can improve your current business. This is especially true regarding investments, which is a great frame of reference for understanding the importance of diversification. If 2020 has taught us anything, it's that life is unpredictable, and anything is possible. The best way to protect your business is to ensure that your success is not dependent upon one revenue stream – aka: diversification.
Let's explore some of the benefits of diversifying your business:
Minimizing the effects of market volatility – Market volatility is unavoidable, but it doesn't have to be unbearable. By diversifying your business, you reduce the overall risk that comes with market fluctuations.
A boost in confidence knowing your business is not reliant on one revenue stream – Confidence empowers! Keeping your business open to multiple streams of revenue allows the business owner to remain focused on the important daily functions of a business, such as hiring, capital investments and growth projections.
Opportunity to shift the business toward another stream of revenue – As stated above, if 2020 has taught us anything, it's that life is unpredictable. All too often, life's unexpected moments can impact a business's source of income. With diversification already in place, should something happen to one revenue stream, you are able to pivot to another area of the business to shore up your sources of income.
Establishes the opportunity for your business to intermingle with new customer segments – With a diversified product or service, your business can secure new customers. Those who align to and enjoy your current offerings are likely to go from new customers to loyal customers.
Below are 4 simple ways to implement diversification within your business:
4 Simple Ways to Diversify Your Business
Expand Your Services – Have you taken the time to ask your customers what other products or services they would like to see you offer? Do you take the time to read your customer reviews? Many times, customers are answering our questions, such as what new products to offer, before we even ask them. There may even be products or services that you are giving away for free that simply need to be packaged and sold instead. Expanding is easier than you might think.
Increase Customer Reach – Diversification doesn't always mean a new product. Sometimes it's as simple as marketing your current product to a new audience.
Recurring Passive Income – By offering your customers the option to subscribe, or even better, subscribe and save, you increase not only your revenue stream, but the chance of a new customer becoming a loyal customer.
Increase Customer Value – When your business expands its portfolio or product offerings, especially based on current customer recommendations, your business grows through customer commitment and satisfaction. This is the kind of diversification that benefits you and your customers!
Spring Green provides a source of diversification for your existing Green Industry business. Diversifying with Spring-Green and running it in conjunction with your existing business, allows you to expand your portfolio of services, creating greater financial security and options for you and your family.
Schedule a consultation with Spring-Green today to explore your diversification options ASAP!