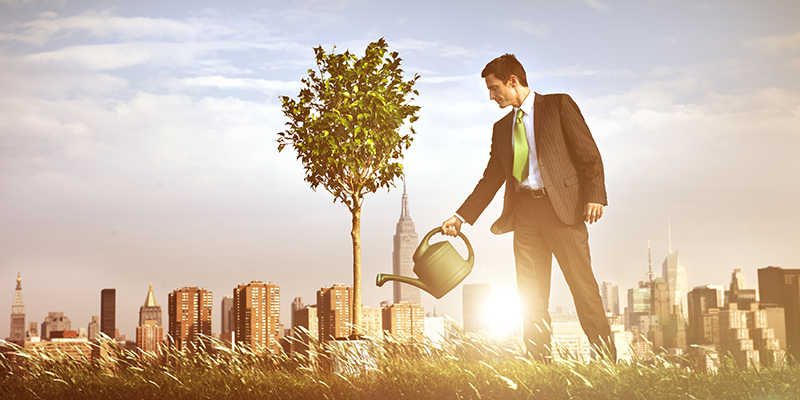 Whether you are just starting out as a green industry business owner or have years (even decades) of experience, knowing the trends, changes and opportunities in your sector is essential to the success of your business. The landscaping industry comprises services ranging from landscape architecture to pest control, from mowing to snow removal. These businesses generated $77 billion in revenue in 2015, which was up 3.5 percent over the five-year period starting in 2011. What do you need to know to make the most of this growth?
A growing market
Lawn care can be a profitable business, if you understand how to take advantage of the opportunities out there. In fact, the green industry is projected to grow by 2.1 percent over the next five years, bringing industry revenues to $84.9 billion (according to IBIS World). Spring-Green Lawn Care has the experience and the know-how to help you grow the profits of your green industry business.
One of the ways Spring-Green can help franchise owners is by maximizing efficiency and ensuring you are reaching the right customers. When you schedule jobs to take advantage of proximity and the equipment and vehicles you have the end result is a boost to your bottom line. Spring-Green offers franchise owners the technology to create the best routes, so that you can manage your customers and services as efficiently as possible.
Long-term forecast
An essential trend to understand in any business is the potential for growth in the months and years ahead. IBIS World predicts that through 2020 the green industry will continue to experience growth due to an increase in housing markets and a steady level of growth in disposable income for most households. If handled correctly an increase in business can lead to an increase in profitability. Again, Spring-Green can help.
Spring-Green offers a slate of industry-leading marketing systems and processes to help you find new customers and take advantage of the increased demand for lawn care services. From our cost effective direct marketing programs that allow you to specifically target lawn care prospects to our digital marketing efforts, Spring-Green provides the training on systems and processes to improve your operational efficiencies. So once you have the new customers, Spring-Green helps you keep those customers, and more importantly, keep them satisfied.
What's one final advantage to being a green industry business today? IBIS World found that the number of companies expected to join the industry over the next five years is only about two percent per year. In 2007, the growth rate was 16 percent. Although that dropped to under five percent in 2010, this lower growth rate over the next five years signals that established lawn care businesses will face less competition for the projected increase in business.
Want to learn more about how Spring-Green can help your green business make the most of the opportunities available in the landscaping industry? Call 1-800-777-8608 or visit us at www.growmygreenindustrybusiness.com.