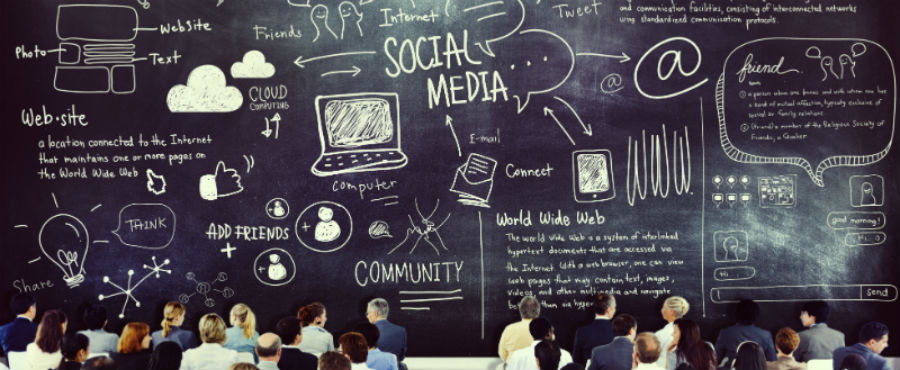 You've heard that social media marketing is really important to getting more leads. Matter of fact, you've been influenced by ads or posts that you've seen on Facebook, Twitter or LinkedIn. Yet, you still really like looking at and using those coupons that appear in your customers' mailbox.
Should you do one or the other? Or should you forget about traditional marketing altogether? As advertising experts point out, your green industry business still needs both social media and traditional marketing methods.
Difference between Social Media Marketing and Traditional Marketing
If you've been in business for many years, you're probably very familiar with traditional marketing such as direct mail, door hangers and value pack coupons. Believe it or not, these hard copy marketing methods still work. Why?
Value lasts longer – A homeowner who gets a postcard from your lawn and landscape maintenance service can tack it up on their refrigerator to refer to later—especially if there's a coupon involved.
Targeted to your local sales prospects – You're able to get your coupons and offers into the hands of homeowners in a specific area and time when you know they are looking for your services. For example, you can send offers to people to use in the early spring to sign them up for the season, early summer for additional services and early fall for fall clean-ups and winterization.
Well-known – Everyone is familiar with direct mail pieces or door hangers because they've gotten many of them. They know what to expect, where to look for contact information and know how long the special lasts.
Social media marketing is more immediate and has a shorter shelf life than traditional marketing. And in today's world, people tend to spend a lot of time on social media.
Here are some other benefits to social media marketing:
Measure its effectiveness – Facebook, LinkedIn and Twitter will provide analytics on the success of your campaigns—demographics, click-through rate, shares etc.
There are a variety of ways to deliver content – You're no longer held to a coupon or a brief write-up. Advertising campaigns can be tailored to your prospects preferred way to digest marketing—through video, blog content or a podcast.
You can organically market to your local audience…without spending any money – If you haven't used social media, you may want to first build your fan base. You can do that organically by uploading new posts or videos on a regular basis.
You can now interact with your audience – Often your fans will comment, like or share your posts. Plus, if they have questions about a particular lawn care or landscape special you're running, or have an issue with their lawn, they can ask you directly by messaging you. If they post, comment or message, it's important to respond timely and engage with them.
You can develop your lawn or landscaping brand –You can develop your brand as a lawn care specialist, hardscape installer, or a pest control expert by sharing useful tips on your social media channels and develop your brand as the one to hire.
Where Should You Invest Your Marketing Dollars?
Whether you decide to go all in with social media or do a mix of both digital and traditional marketing, you need to first have a budget. How much can you invest in your marketing? For example, you may want to invest in Facebook ads and sponsored tweets on Twitter. And in traditional marketing, you may want to invest in seasonal postcards and coupons.
Spring-Green and You…the perfect strategic partnership
How is it that Spring-Green's marketing programs influence the buying decisions of more than 70 percent of new customers each spring?
That sort of performance is only possible with the support of a marketing team who systematically collect and analyze data, and a robust and versatile marketing platform. Followed up by the team in the field getting the work done and collecting money. Learn the first steps of investing in Spring-Green.
Discover more about how Spring-Green's four decades of experience can make the difference for your green industry business. Call 1-800-777-8608 or visit us at www.growmygreenindustrybusiness.com.