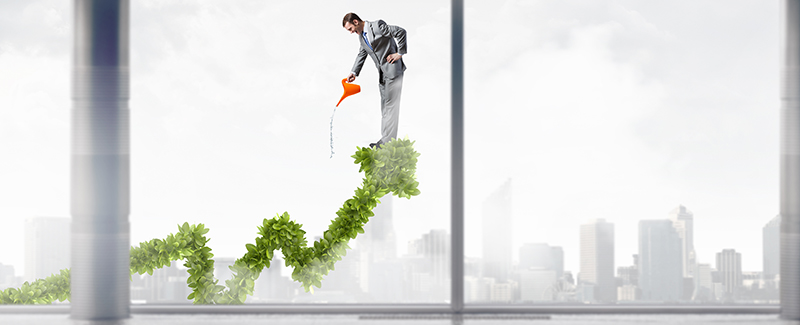 Economically speaking, the past decade has been a roller coaster for everyone, and the green industry is no exception. According to the research firm IBISWorld, businesses that fell into the landscaping services category experienced a 13 percent drop in revenue when the Great Recession hit in 2008.
The economic turnaround
But the economic news continues a positive trend, with 2014's revenue at $73 billion and 2015's revenue figures hitting $77 billion for the industry, the highest it has been since 2007 when it was $69.5 billion. For the next five years, experts expect the growth to continue, at a rate of about 3.5 percent.
The credit for the switch can be attributed to both the housing and commercial construction markets, both of which are rebounding. More consumers now have extra money to spend on lawn care than they did during the Great Recession, too, which also has helped to boost the green industry's revenue. Finally, America's aging population, and an overarching trend toward outsourcing home and lawn maintenance, has increased demand for lawn care services.
According to a recent Lawn & Landscape article, green industry business owners are capitalizing on the increasing demand by raising their rates. The magazine found that almost two thirds of the green business owners they surveyed have increased their rates over what they were three years ago.
The search for qualified employees
Of course it isn't simply how many consumers are using lawn care service providers or even what green businesses are charging their customers. There are many other factors that impact the finances of a green business, and employees are top of the list.
IBISWorld found that 30 percent of revenue goes towards paying labor in a green business. When almost a third of your income is tied up in one area, it is easy to see how important finding quality employees can be. Retaining your customers is key to a healthy green business, but you need qualified employees to keep those customers satisfied. The disconnect is obvious, and it is why Lawn & Landscape has reported that more than half of green industry business have open positions.
Many green industry businesses are micro operations with four or fewer employees. More than ever before, it's essential to have employees that are skilled in both the work and customer relations. Three quarters of homeowners feel that lawn maintenance has had a positive impact on the value of their home, but with that level of appreciation comes high expectations. The green business owner that can deliver will stand out from the pack.
Want to learn more about how Spring-Green can help your green business not only navigate the changing economy, but get ahead of the competition? Call 1-800-777-8608 or visit us at