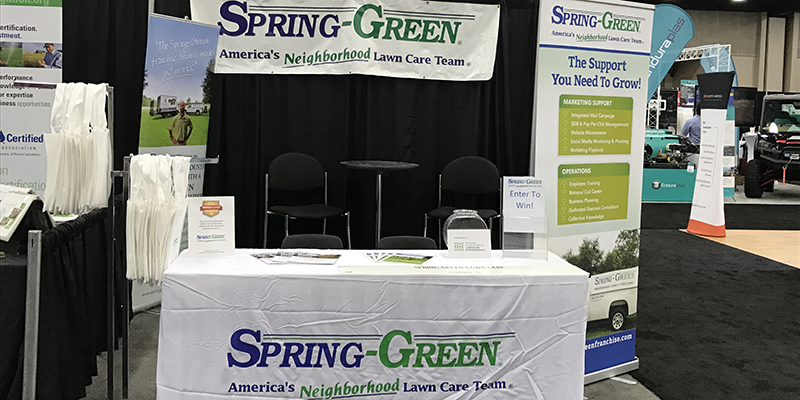 The Green Industry Expo (GIE) is the biggest trade show; completely dedicated to the businesses of lawn care, landscaping, hardscaping, irrigation and the like. Each year, tens of thousands of business owners and their employees descend upon Louisville, Kentucky, to check out the new gear, learn the latest tips during the education sessions, rekindle old friendships and make new ones. The 2018 event promises more new information and products than ever, with 750 exhibits and a 19-acre outdoor demonstration area. But make no mistake, attending GIE can be expensive and, if not carefully planned, a big waste of time and money.
Spring-Green has been a part of the Expo for dozens of years. Our staff attends the educational workshops and seminars. We also exhibit on the trade show floor helping green industry owners learn how to grow their businesses. After almost 40 years of trade shows under our belts, we've learned a thing or two about maximizing our time at conventions:
5 tips for attending the Green Industry Expo
Make appointments before coming to Louisville—Is there a certain piece of equipment you've been interested in? What about an old friend you want to be sure you see? To set up appointments, you probably want to look over the exhibitor list. Why not take a moment to check out a few companies you may not have considered visiting otherwise while you have the opportunity?
Think about what you need to grow your business—Have you considered a diversification strategy? Is there a complementary service you've considered, but you aren't sure where to begin? Use your trip to Louisville as a chance to think about your business and what you could do in 2017 to maximize your revenue and improve profitability. According to our 2016 Franchise Disclosure Document, average gross profit margin for a Spring-Green owner is over 68 percent. How does your business compare?
Take advantage of the educational sessions—Experts from all different types of companies, from major manufacturers to companies just like yours, have prepared presentations on various topics all geared at helping you grow. Workshop space is limited, so be sure to pre-register in advance. Need more? Spring-Green University is a great tool for our owners and their employees. We have over 100 videos ranging from weed identification and control to equipment maintenance, from employee retention and more.
Visit the Spring-Green booth—If you've read this far, you're probably thinking, "Ha! I was wondering how long it would take for this to turn into a commercial!" But don't stop now, there's a lot more you should consider. The Spring-Green team attending this year's GIE has a wealth of experience in all things relating to lawn care. And because we're in 26 states and counting, we've seen it all. Do you have an environmental challenge you'd like to discuss with Harold? Are you interested in growing your business, but aren't sure where to start? Or perhaps you're looking for a way to further capitalize on the successful business you've grown?
Enjoy a great meal—Now is the time to reward yourself for a successful year. Did you bring a staff member from your company? Why not take an evening and share a delicious meal together to celebrate all you've accomplished, odds are they'll appreciate it, too. Team building in a new environment is a great way to build loyalty and improve employee retention.
Don't forget to check out Spring-Green Lawn Care at GIE. Call 1-800-777-8608 or visit us at www.growmygreenindustrybusiness.com to learn why becoming a Spring-Green franchise owner is right for your green industry business.