Charlie Marshall, Spring-Green franchise owner in Centreville, Virginia, was invited to attend Landscape Management's Lawn Care Forum on November 11th through the 13th at the Reunion Resort in Orlando, Florida. Thirty-four lawn care operators from across the country attended the forum, which focused on peer networking, one-on-one discussions with various product and equipment vendors, and educational topics.
Charlie stated that he was impressed with the level of professionalism of the attendees, most of whom were business owners. He said that these were seasoned veterans who have worked in the lawn care and landscape management industry from 10 years to over 25 years.
In the one-on-one meetings with product vendors, the discussions centered on the lawn care operator needs, product use and those use of products products currently in development what products the attendees needed in the future. Learning about those products in development was helpful to Charlie and demonstrated to him their commitment to the landscape management industry. He was impressed by their interest in those products he preferred to use. Charlie also found it a great educational experience as he learned more about the manufacturing process for the products he regularly uses.
Lawn Care Forum Highlights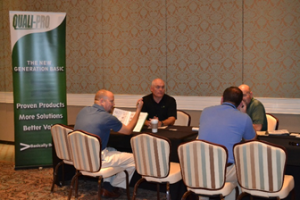 One of the highlights of the forum was the keynote speech by Mel Kleiman titled, "Hire Tough, Manage Easy". Mr. Kleiman is an internationally known authority on recruiting, selecting, and hiring hourly employees. Recruiting and hiring is a major concern for most small business owners, and Charlie has faced challenges in this area. "Hire the right people and weed out the turkeys" was one of the most memorable parts of Mr. Kleiman's speech, according to Charlie.
There was a little time set aside for some fun during the conference, and Charlie decided to try out zip lining. Charlie said that it was great fun and he looks forward to doing it again in the future.
About Spring-Green Owner Charlie Marshall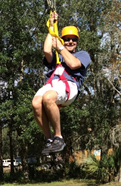 Charlie received the prestigious William R. Fisher Founders Award during Spring-Green's National Training Conference in 2011. The award is given to those franchise owners who demonstrate their commitment to the growth of their business, their involvement with the betterment of the Spring-Green brand, and their commitment to the lawn care and landscape management industry. This award has only been presented to five other Spring-Green franchise owners since 1996, and Charlie was a welcome addition to this exclusive club.
If you live in or around Alexandria, Virginia, or in metro Washington, DC, give Charlie Marshall a call to learn all about your lawn needs and the lawn care services he and his team offer.